Work planned on steps at Norwich war memorial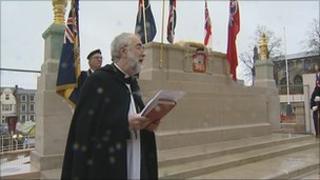 Work to improve the safety of steps at the newly-restored £2.6m War Memorial Gardens in the centre of Norwich is to take place.
The work on the gardens in St Peter's Street, which opened in March this year, follows compensation claims after falls on the steps.
The council is going to add a contrasting line of stonework to make the edges more visible.
The work is expected to cost about £25,000.
A spokeswoman for the council said: "The memorial gardens is an important listed building and we were required to reinstate it in its original form.
"When the gardens were reopened the newly cleaned stonework meant that the edge of the steps were not clearly visible to some people using the gardens.
"So we have gone back to English Heritage and gained their permission to add a strip of slightly contrasting stonework to the steps.
"We will do this work in one small area at a time and leave the rest of the gardens open."