King's Lynn town hall £3m revamp plans revealed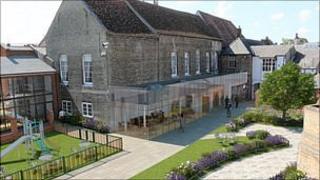 Plans for a £3m revamp of King's Lynn town hall have gone on show.
Among the proposals are better public access to ancient records, improved displays of civic treasures including medieval relics, a gallery and cafe.
Improvements to the Grade I-listed hall also include a "pocket park" with the existing green area inside the complex being extended across car park spaces.
It is hoped that more local people would use the building if the changes go ahead.
Displays of the plans have gone on show at the borough council's office in Chapel Street, the town hall and Lynn Museum.
People are also being asked to comment on the proposed developments in a short questionnaire, which is also available online until 25 July.
Councillor Elizabeth Nockolds, cabinet member for shared services and external relations, said it was important for the council to find out how the public wanted to use the building so it can be a focal point for the community.
"King's Lynn town hall has been at the heart of civic life for over 800 years and has enormous potential to play a significant role in the town's future," she said.
"As well as its role in preserving heritage and supporting education, the complex has potential to strengthen the tourism offer in King's Lynn, attracting visitors and investment."
After the consultation is over, a £2.4m bid will be made to the Heritage Lottery Fund for the project which is estimated to cost £3m overall.
If the funding and plans are approved, work could go ahead in 2014.