BBC Introducing in Norfolk: Chapelfield Gardens gig '11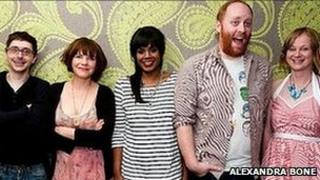 BBC Introducing in Norfolk is to switch from the radio studio to the stage for Norwich's Lord Mayor's celebrations.
Bearsuit, Cakes and Ale, C.O.L.L., Twisted Piglet and We Can't Dance will flick on their amps for the new music live showcase on Saturday, 9 July.
Sounds veering from indie rock and hip-hop to upbeat folk will ring out from an outdoor stage at Chapelfield Gardens between 1300 and 1630 BST.
The acts represent a selection of the best new music being made in Norfolk.
Indie-pop outfit Bearsuit have recently returned from playing at Spanish music festival Primavera and won a public vote to have their single played on BBC 6 Music's alternative playlist at the end of last year.
Twisted Piglet, finalists in band contest DISScovery, will also be performing at the BBC Introducing in Norfolk gig ahead of their warm-up dates with pop icon Lulu.
It is the third year that the radio show - which supports unsigned and under-the-radar music from across the county - has curated a showcase for the city celebrations.
The live music stage will continue to host performances until 2200 BST with hip-hop blues fusion Belleruche, African ensemble Kasai Masai and tribute band Magic of Take That.
BBC Introducing in Norfolk is broadcast on BBC Radio Norfolk every Friday night from 1900 BST.