Norfolk's museums could be funded by charitable trust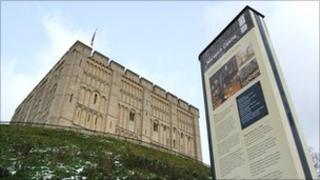 Plans to secure the financial future of many of Norfolk's best-loved museums will be put forward to councillors next week.
The Joint Museums and Archaeology Committee will meet on 15 July at County Hall to find ways of maintaining 13 museums including Norwich Castle.
One option includes creating a charitable trust to manage the museums' buildings and collections.
It has been suggested the move could immediately save councils £160,000.
"Everyone's facing unprecedented financial strains," said Vanessa Trevelyan, head of Norfolk Museums and Archaeology Service.
"We're looking to see how we can operate differently in the future whilst retaining the good quality of service we deliver to the people of Norfolk," she added.
'Generating income'
The Museums Service is under pressure to save £650,000 in four years.
The service currently costs £4m a year, but the museums only generate £800,000 a year.
Mrs Trevelyan said the Museums Service had to find ways of being "leaner" and more effective in "generating income".
"I think visitors would see no change immediately," said Mrs Trevelyan.
"What we're looking at is changes in governance and back-office that will be more efficient than we can currently perhaps operate within the county council."
Mrs Trevelyan said she was confident admission prices in the future would not be affected by the changes.
Similar schemes have taken place around the UK including many museums in York being transferred to a charitable trust in 2002 and King's Lynn's Arts Centre recently being moved to trust status.
A charitable trust for the 13 museums could see the Museums Service benefit from tax advantages, gift aid, sponsorship and income from trading and grants.
County Councillor James Carswell, the Conservative cabinet member for cultural services, said he wanted to protect Norfolk's museums for "generation after generation who live in this county".
George Nobbs, Labour group leader on the county council, criticised the plans saying the museums would "no longer" belong to the public.
Accountants are currently examining whether the plans could succeed. If agreed, the ideas will go to all councils involved for a further decision, with a result expected by the end of the year.