Bishop of Norwich asks churches to sell land for housing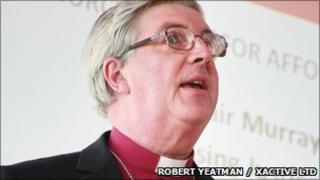 The Bishop of Norwich has called for churches in East Anglia to sell plots of land to aid rural regeneration.
Rt Rev Graham James said communities need affordable homes and facilities to keep them "sustainable".
At a conference in Norwich Cathedral, he said: "Strengthening and breathing fresh life into our rural communities is vital if we are to retain them as real places to live and work."
A planning law relaxation could allow churches to sell or lease unused land.
"There's a great shortage of housing for people especially on low incomes," said Alastair Murray, of Christian charity Housing Justice, which ran Thursday's Faith in Affordable Housing (FIAH) conference.
'In need'
"Many rural communities are dying because the young people are moving away and can't afford to live in the places that they've been born and brought up.
"Churches have a responsibility towards the community so anyone who's in poverty or need, especially in relation to having a safe and secure place to live, is part of the churches' agenda," he added.
Mr Murray said factors including holiday homes have priced many local people out of the market and fragmented rural communities during many months of the year, which he hopes can be rebuilt.
"There's often the conflict between different groups within the community - the second-home owners against those who are wanting to be able to live in a small village where the housing is otherwise unaffordable," he said.
"We believe the relaxation in the planning and the emphasis upon 'localism' is a good thing in relation to local groups being able to be active in creating affordable housing."
Conference sponsor the Quaker Housing Trust is already considering an application from charity Solo Housing East Anglia to provide accommodation for single homeless people in rural Norfolk.