Girls Aloud's Nicola Roberts duets with Norfolk schoolgirl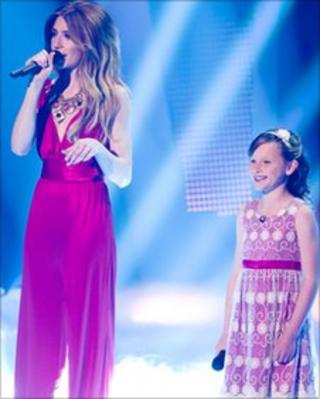 A Norfolk schoolgirl is to appear in front of millions of TV viewers alongside her idol, Girls Aloud singer Nicola Roberts.
Leah Colebrooke, from Aylsham, will duet with the star on BBC One show Tonight's the Night on 16 July.
The 10-year-old, who has diabetes, was surprised during a school craft lesson by host John Barrowman who said he would "make her dreams come true".
Her mother Helen wrote to the programme asking them to grant Leah's wish.
She was inspired by her daughter's courage in dealing with her illness.
"Leah was diagnosed with diabetes at the age of six and she's always so good about everything she has to do and she just makes my life a lot easier because of that," said Mrs Colebrooke.
"She never complains and she looks after herself."
'Total shock'
Leah, who attends the town's Bure Valley School, said all her classmates were in "total shock" when the TV presenter and a camera crew burst into her classroom.
They were then taken to the assembly hall where the star of the Doctor Who spin-off series Torchwood broke the ice by getting the pupils to play football and dance before he asked who could sing and Leah was pushed to the front by her friends and teacher.
"I was about to start singing when John Barrowman stopped me and said, 'I don't need to hear you sing because I've already heard you'," said Leah.
"He told me all about how I was going to be on Tonight's The Night doing a duet."
Surprise entrance
She was then flown to Glasgow and was midway through rehearsing a track in front of the TV cameras when the singer - who is about to release her first solo single - strolled into the hotel room.
"Nicola walked through the door and gave me a hug and started singing with me," said Leah.
"I don't know how I did it because it was in the middle of the song but I just kept on singing."
After Leah's stint on stage, she is now looking forward to sharing her star-studded TV performance with her friends at a small party.