Norfolk schools close in education shake-up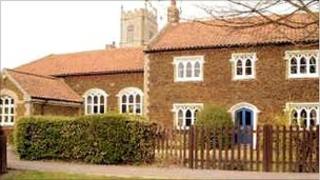 Three village schools have closed in the last batch of changes during a shake-up of Norfolk's education system.
Church Hill School at Grimston and Pott Row First, both near King's Lynn, have shut despite a campaign to keep them open - as well as Grimston Juniors.
They will be replaced by a new primary, Holly Meadows, taking 4 to 11-year-olds in September.
It is part of a plan for a two-tier primary and secondary school system in the county.
'Very sad'
All first schools in the county will be phased out by the end of the summer term following the closure of all of its middle schools in 2008.
It means children in Norfolk will no longer have to move during one of the key stages - which run from 4 to 7, 7 to 11 and 11 to 14 - set out in the National Curriculum.
Judith Simmonds, who has taught at Pott Row First for 18 years, said supporters battled to keep the smaller schools open ahead of the Schools Adjudicator's final decision in March.
"It is going to be a very sad day and I also feel very angry that the school is closing after so many years," said Mrs Simmonds before she entered the school for the final time on Wednesday.
"We fought long and hard to actually keep it open, not just for the children but for the staff, the parents and the community because it is a very special place."
Parent Julie Groom cried as she took her two children to Church Hill School for the last day.
"It's been such a fantastic school, fantastic teachers and fantastic people and it's just very sad that it's come to an end," she said.
Countywide changes
Norfolk County Council's cabinet member for children's services Alison Thomas said the reorganisation would minimise disruption for pupils and "bring the schools in-line with the rest of the county".
She added: "We know that changing schools during a key stage can lead to a dip in performance for pupils as they settle into their new school and we favour all-through primary schools, wherever possible, for the same reason."
Other changes across the county include Ashwicken and Gayton firsts becoming primary schools, taking 4 to 11-year-olds.
Lingwood First and Nursery School and Lingwood Junior School will merge to become a new community primary school.
South Wootton and Mundesley firsts will change to infant schools taking children aged from 4 to 7 instead of 4 to 8, with both village juniors admitting 7 to 11-year-olds.
Bacton First School will become a primary school, where children will stay until they are 11.
Norfolk County Council said no compulsory redundancies had been made as a result of the changes.