Norwich dancer set for TV talent show Born To Shine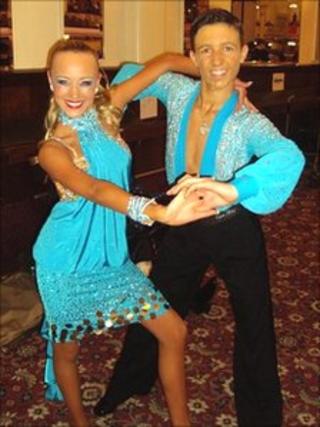 A 15-year-old dancer from Norwich will be showing off his skills on an ITV talent show on Sunday.
Luke Miller's ability on the dance floor saw him selected to appear on Born To Shine, in which young people teach celebrities a new skill.
He has been teaching Tony Audenshaw and Lesley Dunlop, who play Bob Hope and Brenda Walker in Emmerdale, how to jive for the past month.
The show is raising money for Save The Children via a telephone voting system.
Luke and his dance partner Hanna Cresswell are current world, European, British and UK champions in the under-16s category.
He began dancing at the age of one and his parents Richard and Lynn Miller run the Miller Dance Centre in Norwich.
Mrs Miller said that despite being new to dancing, the celebrities were getting the hang of it.
She said: "They've only been doing it for about a month and they're working very hard.
"They're having a whale of a time learning and they're going to do their best on Sunday evening."