Blickling Hall staircase opens to the public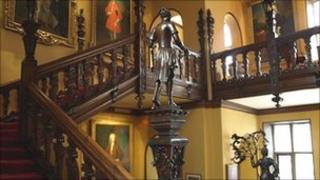 The staircase in Blickling Hall's Great Hall is open to the public this weekend for the first time since the National Trust acquired the property in 1940.
People have been unable to use the stairs for more than 70 years due to fears over their structural integrity.
A £65,000 restoration project began in late 2010 to reinforce them and install new lighting.
Estate manager Helen Bailey said: "Now visitors will be able to appreciate fully the beauty of the staircase."