Grandson of King's speech therapist visits Sandringham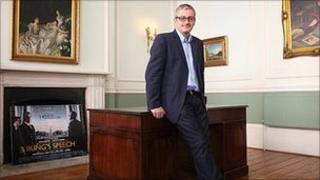 The grandson of Lionel Logue, the speech therapist who helped King George VI overcome his stammer, has retraced his grandfather's steps at Sandringham.
Mark Logue visited the royal residence where his grandfather helped the King delivered his Christmas speech.
Lionel's story was recently made into a film, The King's Speech, with his role played by Geoffrey Rush.
Mr Logue said: "It's nice to walk the same steps that my grandfather would have walked."
George VI (born Albert Frederick Arthur George) became King on 11 December 1936 following the death of his father George V and the abdication of his brother Edward VIII.
Before ascending to the throne he dreaded public speaking due to a stammer. This led him to engage the services of Lionel Logue, an Australian-born speech therapist, in 1926.
Lionel spent each Christmas day at Sandringham with the Royal Family from 1936 until 1944 before travelling back to London to his own family.
After discovering his grandfather's diaries, Mark co-wrote a book with Peter Conradi called The King's Speech: How One Man Saved the British Monarchy, charting his grandfather's time with the Royal Family.