Newday Christian event resumes Norfolk social projects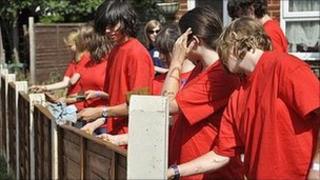 The Newday Christian festival returns to Norfolk on Monday for a third year with a greater focus on its social projects, say organisers.
The event will see more than 6,000 young people camped-out at the Norfolk Showground in Norwich until 6 August.
Alongside live music, prayer and faith seminars, the festival-goers - aged 12 to 19 - will be signed on to one of 25 social projects around the county.
Projects include clearing gardens at homes in need of a helping hand.
"Although Newday isn't politically motivated we see the social action projects as a great way to encourage people to make a real difference in their communities," said project organiser Toby Skipper from Kings Community Church Norwich.
"The young people are demonstrating that the church has a key role to play in helping tackle local issues," he added.
This year as well as returning to Catton in Norwich there will be projects taking place in Mile Cross, Hellesdon, Norwich city centre, Poringland, Attleborough and Great Yarmouth.
"Despite the atrocious weather last year everyone was over the moon with the work that was done in Catton," said Sue Browne, chair of the Catton Residents Association.
"Residents are now taking more pride in the area where they live and the young people gave them that incentive."