Work begins on new £4m hospice at Hillington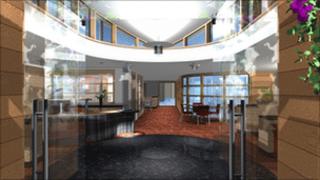 Work has started on building a 12-bed hospice costing £4m in West Norfolk.
The official turf cutting took place at Hillington near King's Lynn on Wednesday morning.
The Norfolk Hospice Tapping House said it signified the first big step towards providing a full hospice service for West Norfolk and the Fens.
The charity will move from it current premises at Snettisham to the new hospice once the building work has been completed at a date to be fixed.
The new hospice will also have a day unit and outpatients service.
The chief executive of the Norfolk Hospice Tapping House, Richard Shaw, said: "We all have a right to die in a place of our choice.
"Most of us would choose to die at home. Until we are able to provide a full hospice at home and inpatient facility this will not be consistently available.
"Hospital becomes the only other option.
"We think that people in our part of the county have a right to that choice and consequently we are developing our services now and building a new hospice for the future."
The new hospice will work closely with the palliative care unit at the Queen Elizabeth hospital in nearby King's Lynn.
The charity has so far raised £1.3m of the project's total cost.