Sheringham Shoal windfarm's first turbine starts up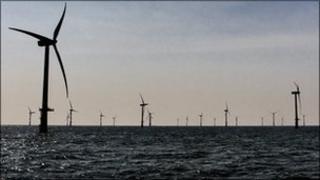 The first turbine at a large new windfarm off the Norfolk coast has been installed and has started producing electricity for the UK national grid.
The turbine is one of 86 planned for the Sheringham Shoal wind farm.
It is two years since work started and the project is expected to be finished in a year's time.
There are around 30 vessels and 500 people working offshore on the installation and once it is complete 50 full time workers will run it.
They will be based at Egmere near Wells-next-the Sea.
Scira Offshore Energy will also indirectly employ about 25 people in logistics and support functions.