Thetford bus station public poll ends in 'no' vote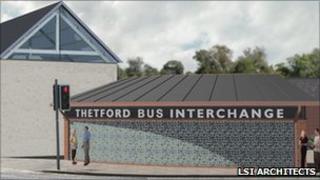 A public poll to decide whether a bus station in a Norfolk town should move has ended with a resounding "no" vote.
More than 2,300 people turned out to vote on Tuesday, with 1,921 saying they were against plans to move Thetford bus station to St Nicholas Street.
Poll instigator and "no" campaigner Stuart Wilson said he was "delighted" at the outcome.
Mark Robinson, from the Moving Thetford Forward initiative, said he was "disappointed", but "not surprised".
Plans to move the station from its site near the Anchor Hotel have been criticised by "no" campaigners who say the new site would be half the size, have no facilities or drop-off zones and be potentially dangerous with coaches travelling along a main pedestrian route.
They also said a sufficient "meet-and-greet" area would not be built and preferred the current site to be updated.
Mr Robinson believes much of the literature given to the public by "no" campaigners was "scaremongering" and contained many "factual inaccuracies".
He also said a 14% turnout of Thetford's electorate did not represent the "majority of people", but the opinions of voters would be "taken into account".