Norwich City's Jeremy Goss completes charity ride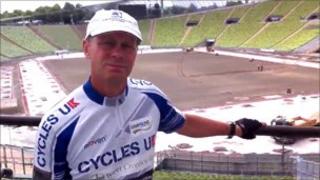 An ex-Norwich City player has completed a 1,300-mile (2,000km) charity cycle ride which took him to the scene of the club's most famous goal.
Jeremy Goss visited Munich's Olympiastadion, where he scored a match-winning volley in 1993, en-route to Milan on Saturday.
His ride took him to each of the European clubs in the Canaries' 1993-94 UEFA Cup run.
Mr Goss raised more than £11,000 during the 11-day ride.
The 46-year-old said he "relived some fond memories" as he rode into the German stadium, where his wonder-goal helped secure a 1-2 victory for Norwich against European giants Bayern Munich.