Caistor St Edmund Roman town dig begins for third year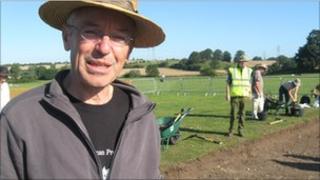 Hopes are high for new discoveries as archaeologists have begun digging for a third year at a Roman site in Norfolk.
Since 2009, skeletons, coins and pottery have been unearthed at Caistor St Edmund, near Norwich, helping detail the history of the buried town.
New excavations will look at the 100sqm (1,076sq ft) site of the Forum, based inside the town walls of Venta Icenorum.
The site will be open to the public daily until 3 September.
"This is our third year back and it's lovely to be here," said project leader Dr Will Bowden from the University of Nottingham.
'Most important'
"The Forum was first dug in the 1930s, but we don't really know a lot about what they found.
"What we're doing is re-opening parts of the older excavations, hoping to find bits they didn't dig that will help us understand when the Forum was built, what it was like, and what happened to it at the end of the Roman period."
Known as "one of the most important, but least understood sites of Roman Britain," digging at Venta Icenorum began in 1929 after an RAF crew member found markings in the fields during aerial photography.
A geophysical survey in 2007 rekindled interest in the site and many discoveries have been made since, including a skeleton dating back to the fourth century.
Last year it was the subject of a dig by Channel 4's Time Team.
In July the Norfolk Archaeological Trust bought the west side of the town after farming and illegal metal detecting caused damage.