Wooden bike, built in Norfolk, sets speed record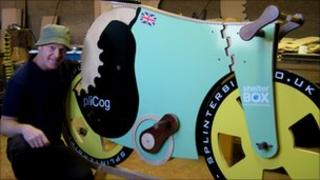 A bicycle made entirely out of wood by a Norfolk carpenter has set the first land speed record for this type of vehicle.
The SplinterBike reached 11.25mph (18.1kph) at Quibell Park Velodrome in Scunthorpe on Thursday.
The bicycle, which is held together only by wooden joints and glue, was made by Norfolk carpenter Michael Thompson after a £1 bet with a friend.
"The bike is geared for 31mph but this is so new territory," said Mr Thompson.
'No market'
"We have set the initial record, but we will be back."
Mr Thompson completed the 30kg (4.7 stone) SplinterBike in May after spending about 1,000 hours hand-building it in his shed in Potter Heigham on the Norfolk Broads.
He has also built a second bicycle because the Victoria and Albert Museum wants to exhibit one of them on show.
Mr Thompson said there was "absolutely not" a market for wooden bikes.
The bicycle was ridden by Mr Thompson's friend and triathlete James Tully.
The event was witnessed by officials from the Land Speed Records Club.