Norwich City fan's wedding clash with Premier League game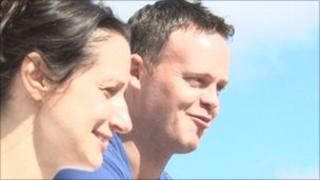 A Norwich City fan who organised his wedding around the team's game this weekend has had his plans scuppered after the match day was switched.
James Bigg, who now lives in Canada, chose to marry Tanya Wutschert in the city on Sunday so close family and friends could go to Saturday's fixture.
But Norwich's game was moved to Sunday due to opponents Stoke's European run.
The 33-year-old worked in the club's media team and his old colleagues are now unable to attend the ceremony.
The couple, who live just outside Toronto, booked their wedding at Sprowston Manor in Norwich a year ago and thought any match clashes would be unlikely.
Sunday's fixture will be Norwich City's first home match of the season after they were promoted to the Premier League in May.
"It's hugely frustrating and we had bought tickets for all of Tanya's family to watch as well," said Mr Bigg, who grew up in Bradwell, near Great Yarmouth.
"We were going, Mum and Dad were going and it was going to be a great occasion."
Mr Bigg emigrated to Canada in 2009 to be with Tanya, 34, whom he met while she was working at the Norfolk and Norwich University Hospital.
The public relations consultant was excited about watching a game at Carrow Road stadium instead of having to listen to commentary on the internet.
He says his friends who have season tickets were also disappointed by the date change.
"I think they're more annoyed than anyone that this has been moved as now they're going to miss the first home game - and a great atmosphere, although we'll make a great atmosphere of our own at the wedding," said Mr Bigg.