Baton twirlers from Norwich grab bronze for England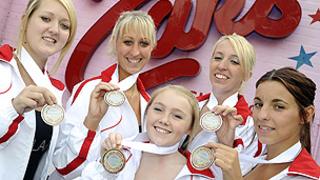 Five baton twirlers from a troupe in Norwich have helped the England team to take third place in the World Baton Twirling International Cup.
Amber Stewart, Melissa Bowling, Lauren Stearman and Sarah and Claire Cullum from the Angel Baton Twirlers, took part in the competition in America.
Troupe leader Ann Cullum said: "To come third was unexpected but fantastic. We're all so proud."
England finished behind teams from France and the USA.
The squad of 13 members was selected from troupes around the country.
More than 500 athletes from 14 countries competed in the event performing choreographed routines to music.
Despite being a relatively unknown sport in the UK, it is taught as part of the school sports curriculum in countries including France, Italy and the USA.