Land Girls and Lumber Jills celebrated at Gressenhall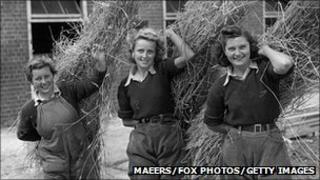 The role played by Land Girls and Lumber Jills in both World Wars is being celebrated at Gressenhall Farm and Workhouse in Norfolk.
The Land Army and Timber Corps were brought in to fill the rural jobs left by men at war.
The exhibition features audio displays, photos, uniforms and tools and will be a permanent fixture at the museum.
Christine Walters, from the Friends of Gressenhall, said it was "an enormously important project".
"It is the first accredited museum to have a dedicated gallery to this particular group of women and recognise their contribution," she added.
The jobs undertaken by the women ranged from ploughing to hay-raking and felling trees to working in the sawmills.
'Their story'
As well as helping to keep the nation fed, the women helped produce the wood for pit poles to allow mining to continue and telegraph poles to ensure the communication infrastructure remained intact.
Gressenhall's exhibition also features audio recordings by former members of the Land Army and Timber Corps.
Ms Walters believes the contact they had with the women helped make the display unique.
"We have been able to talk to the ladies themselves, not to wonder how something was done but to actually get their genuine stories."
Gressenhall is the ideal place for the country's first permanent exhibition, she said.
"This is absolutely the right location to put a gallery of this nature. Being a rural life museum we've been able to tell the story of Norfolk's land girls.
"It's their story and this is very much their gallery."