King's Lynn incinerator backed by Yarmouth councillors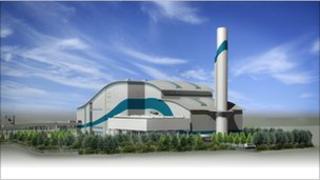 Great Yarmouth borough councillors have backed plans for a waste incinerator in King's Lynn.
Rubbish from the borough would be sent to the incinerator, which would be 70 miles away.
Norfolk County Council and Cory Wheelabrator want to build the £600m plant at Saddlebow.
In a cabinet meeting debate lasting just a few minutes, council leader Steve Ames said the borough had signed up to the Norfolk Waste Strategy.
He added that the incinerator was a key part of the strategy and the rest of the Conservative cabinet agreed to support the proposal in Norfolk County Council's consultation process.
"I certainly haven't gone into the detail but am more than happy with the work that has been done and happy to support the scheme," said Mr Ames after Wednesday evening's meeting.
The leader of the opposition Labour group Trevor Wainwright, who was an observer in the debate, said he did not agree with the decision.
"We do not support the incinerator although we do appreciate that it is part of the Norfolk Waste Partnership, but we support the residents and the 65,000 people who signed the petition against it," said Mr Wainwright.
At its cabinet meeting on 7 March, Norfolk County Council voted for the plans and said the plant was needed to stop waste going to landfill and to generate energy.
The county council is not making comments during the planning process, but leader Derrick Murphy has previously said that King's Lynn was an ideal location for the incinerator as it needs to be next to an existing power station and an A road.
Opponents have said they are worried about pollution and traffic.
King's Lynn and West Norfolk borough councillors have rejected the plan and recommended that the government look at the case.