Elm Hill in Norwich hosts festival to boost business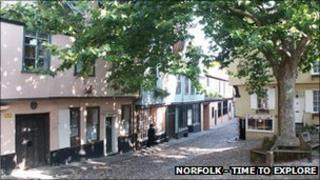 Shop owners on one of the oldest streets in Norwich hope a festival will increase footfall and help boost business.
Elm Hill dates back to the 16th Century and is often used on film shoots thanks to its cobbled street and Tudor houses.
Proprietors fear its specialist shops and location away from the city centre have caused business to drop.
The festival takes place during the August Bank Holiday and features stalls and a vintage clothes fair.
Festival organiser and shop owner Frances Kennedy said: "It's such a shame that such a beautiful street isn't used enough.
"If people could just realise that there are still small businesses... we could all help each other out."