Great Yarmouth parking permits could be scrapped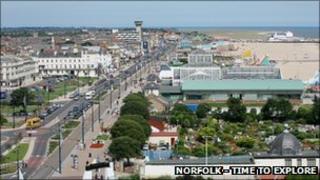 The deputy leader of Great Yarmouth Borough Council has called for residents' parking permits to be scrapped in a bid to boost the economy.
Charles Reynolds said the scheme costs taxpayers around £100,000 per year in subsidies and is putting off visitors.
Permits cost £25 each but the council have to make up a deficit as not enough people buy them to cover running costs.
However, some business owners in the town believe that the permit scheme helps the economy.
Jane Reynolds, owner of the Merivon Guest House on Trafalgar Road, said: "When I first arrived it was free for all. We used to lose customers because there was nowhere for them to park.
"Those customers are very important for the borough. They come and stay and they spend their money in the restaurants, the amusements and the town."
'Resident support'
There are currently around 600 permits issued but the cost of administration and providing wardens means that the council has to subside each person to the cost of £165.
Mr Reynolds said: "I don't think that's fair to the taxpayers of the whole of the borough."
"We've got to think about the economy of this town and getting people in here to spend money.
"It's going to inconvenience a few, I know that and I'm very sorry about that, but we've got to look for the general good of the borough."
But Ms Reynolds claims that many residents support the scheme and blames the low cost of the permits for the financial problems.
"They're quite happy with permits and quite happy to pay £50 per permit.
"When it first came out they set a price. They haven't increased the price and this is why we have a deficit."