Yarmouth Winter Gardens could reopen after restoration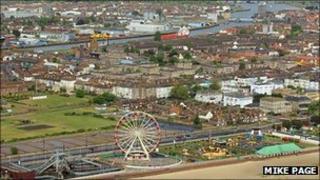 One of Great Yarmouth's most notable buildings could reopen after a £2m restoration.
The Winter Gardens, a glass and metal structure built in 1904, has been closed since 2008 due to fears over falling debris injuring pedestrians.
A new inspection has found the building in better condition than feared.
It was placed on the English Heritage at risk register last year and Mayor Barry Coleman now hopes to gain funding to redevelop the site.
Mr Coleman, also the borough's heritage champion, said: "The main concern is the wood and aluminium which holds all the glass in which will all need replacing."
"What we would like to do is to be able to get it to a similar sort of condition as it was 100 years ago but with a modern use.
"I'm really excited about getting it back into its pristine condition and also for it to be another major attraction to the heritage side of the tourist industry."
The building, which has had various uses including a concert venue and roller skating rink, was purchased by the Yarmouth Corporation from Torquay for £1,300.
If a viable business proposition is found and Heritage Lottery funding secured, the building could reopen its doors in spring 2013.