Jim Davidson banned from Norwich Theatre Royal show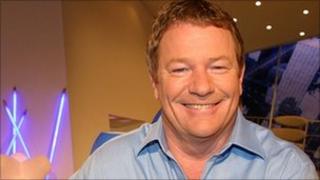 A theatre has banned comedian Jim Davidson from performing his new show at the venue because of previous "rude" behaviour towards staff.
In an email, which Davidson posted on his blog, Norwich Theatre Royal's chief executive said colleagues had been "publicly insulted" by him in 2004.
Peter Wilson also said Davidson had "arguments over figures" and "refused to accept policy on wheelchair users".
The comic responded saying the comments were "crazy" and "ridiculous".
Davidson performed instead at Great Yarmouth's Britannia Theatre in August.
On his blog entry on Thursday, the 57-year-old comedian said: "I have been asked by many people in Norfolk why I do not play the county's most prestigious theatre as they think I am snubbing the town in favour of Great Yarmouth.
"You will see from the reply I have received from the Theatre Royal below, that this is not the case.
"If you have any comments I suggest you make them known to the theatre directly."
'Very rude'
Mr Wilson confirmed he had sent the email to Davidson and said he had "no intention" of inviting him back for future live performances.
In the email, Mr Wilson said an assessment form filled out by the theatre after Davidson's previous appearance on 15 August 2004 stated the comedian was "very rude to staff. Arguments over figures, drinks etc, and personal comments that are not acceptable".
Mr Wilson also said the show report showed Davidson had "publicly insulted and demeaned my front of house colleagues, offensively queried the house returns and refused to accept our policy on wheelchair users".
The email added: "I'm sorry of course that your many fans - and I'm not for a moment questioning your popularity as an entertainer - have to travel to catch your act.
"But I prefer not to have you in our theatre because there is not a single person here who finds this sort of behaviour acceptable. If asked by the people of Norwich, I will be more than happy to make public our specific objections."
In response, Davidson said the comments made by Mr Wilson in the email were "crazy" and "ridiculous" and said it was just his "type of act" that the chief executive did not like.
He also put a challenge to Mr Wilson saying he would do a gig at the venue for free to raise money for Norfolk's Caister lifeboat.
Norwich Theatre Royal declined to respond to further comments.
Known for his controversial remarks, in 2003 the comic called the people of Great Yarmouth "fat and ugly" in a BBC TV interview.
He was once the leaseholder of the seaside town's Wellington Pier Theatre.