BBC Radio 1's Huw Stephens backs BBC Music Video Festival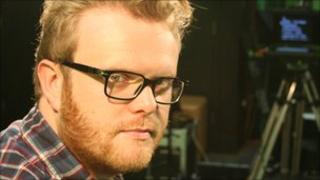 BBC Radio 1 DJ and new music champion Huw Stephens has been in Norwich during the countdown to the BBC Music Video Festival.
The broadcaster has been filming sequences for the UK's only festival of its kind, which runs at the city's Forum from 19 September to 1 October.
The talents of musicians and film-makers will be introduced by Huw on Europe's biggest permanent HD screen.
He said: "I think it's a great idea and a brilliant showcase for video-makers.
"An event like this excites people and inspires them to be creative."
The festival is now in its third year and received 440 entries which have been whittled down to a final list of 47.
The free three-and-a-half hour presentation will be shown twice a day on The Forum's screen, while festival highlights will also be shown at 20 of the UK's biggest cities and towns on the Big Screen network.
Each screen's playlist will feature five videos made by nationally-recognised bands and a further five with local connections.
Special guests
In Norwich a string of events - most of which are free - will complement the festival which has been organised in conjunction with Norwich Sound & Vision.
Top guest speakers include Jamie Thraves who directed Coldplay's The Scientist video, young entrepreneur Jamal Edwards who started the respected SBTV channel and Norwich's Eugene Riecansky, who has worked with Madonna and Muse.
A live highlight of the programme is an ambitious 'pop meets opera' concert at Norwich Playhouse featuring Norfolk County Youth Orchestra and local musicians including Leo Altarelli and Milly Hirst in a project led by Danish innovators Efterklang.
The festival has been put together by the team behind BBC Introducing in Norfolk in an effort to shine the spotlight on the creativity of under-the-radar musicians and film-makers.
Huw's choice
The event includes a video chosen by Huw, as well as ones picked by Radar Music Video and Adam Buxton.
Huw said: "I've chosen Wiley's Numbers in Action. I love the song and the video gives it an extra dimension - it's so memorable and I watched it six times in a row."
BBC Music Video Festival curator Sam Hill said the playlist would feature both well-known and underground acts and was pleased to have Huw involved.
"He's just got this fantastic knowledge and understanding of music, and there's a mutual understanding and passion to support new artists and to discover something people have never heard before," he said.
The BBC Music Video Festival runs on the Fusion screen inside The Forum, Norwich, daily except Sundays, from 19 September to 1 October 2011 and is free.
Booking is essential for workshops and events - email which event you would like to go to and how many tickets you need. Tickets for the Efterklang concert are £6.