Royal Humane Society Award for Norfolk Broads rescuer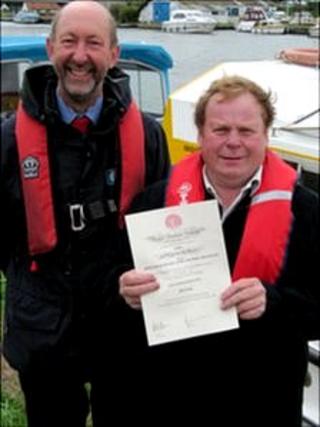 The owner of a boat hire firm who saved a woman from drowning in the Norfolk Broads has received a bravery award.
John Cressy was presented with the Royal Humane Society award by Broads Authority chief John Packham near the rescue spot at Acle Bridge.
Non-swimmer Patricia Scott, 72, from York, was on holiday with her husband in July 2010 when she got dragged into the water while mooring their cruiser.
Mr Cressy, 60, saw her get pulled from the quayside while he was working.
Mrs Scott was not wearing a life jacket and her boat was stuck in reverse gear still travelling in the water on a strong current in windy weather.
"There was a rowing boat nearby which I got into, then I got another cruiser to throw her a lifebelt which she got round her feet," said Mr Cressy, who runs Maffett Cruisers boat hire at Chedgrave.
"I rowed across the river with another gentleman, managed to get hold of her hand and whip her out of the water before the boat impacted her against the quay head."
Mrs Scott, who was unable to watch Mr Cressy receive his award, said: "If we had been on a quieter spot on the river who knows what would have happened.
"If we come to the Broads again I am going to buy myself a life jacket."
Gary Leach, from St Lawrence, Essex, also received a certificate for his part in the rescue but could not attend the presentation.
He helped Mrs Scott into the lifebelt and switched off her boat's engine.