Narborough Aerodrome memorial for WWI airmen unveiled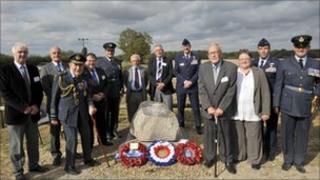 A memorial dedicated to the men who flew from an air base in Norfolk during World War I has been unveiled.
Marshal of the Royal Air Force Sir Michael Beetham unveiled the tribute on the former site of Narborough Aerodrome on Friday.
A Tornado jet from RAF Marham flew over a farm in the village in a salute to what was once its sister station.
Narborough was the largest aerodrome in the country during the Great War, aside from airship stations.
It was also one of the biggest training airfields.
Narborough Parish Council chairman David Burchell said: "We thought it is very appropriate that there should be a memorial on the site because there's nothing here otherwise to show what was here."
The 900-acre base was in service between 1915 and 1919.