Lingwood rail crossing padlocked after pedestrian misuse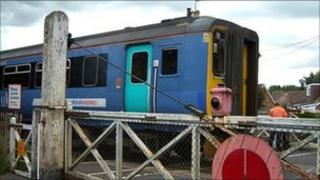 Padlocks have been added to pedestrian railway crossings in a Norfolk village after people were seen running across the line.
A signalman will lock the gates as trains approach Lingwood, near Acle, after Network Rail reports of "misuse".
In one case a woman and two children were spotted running across the line very close to an oncoming train.
"There's no excuse for misusing a level crossing," said Russell Spink of Network Rail.
The railway line runs services between Norwich and Great Yarmouth.
Signalmen now fit chains and padlocks across the access points at two crossings every time a train approaches.
'No excuse whatsover'
The crossings are on Station Road and Chapel Road in the village.
Network Rail said it was the first time chains have had to be fitted to crossings in Norfolk.
Mr Spink added: "If you have the additional responsibility of looking after small children there is no excuse whatsoever.
"I hope they would take a good hard look at themselves and see what they've put themselves and their children through."
The company said that in the past year there had been 67 reported incidents of misuse at rail crossings in the county, including 17 near-misses with vehicles and/or pedestrians.
There are 240 crossings across roads in Norfolk.