First snow leopard departs from Banham Zoo in Norfolk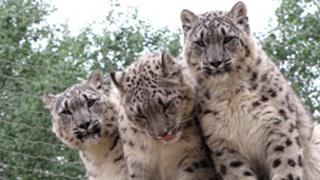 The first of three young snow leopards born in Norfolk has departed for another zoo as part of the rare animal's breeding programme.
One-year-old male Margaash left Banham Zoo for Dudley Zoo on Thursday with his two sisters Rebecca and Ziva set to move in the next few weeks.
They will be transferred Howletts Zoo in Kent and Krefeld Zoo in Germany.
"Staff and visitors shared an amazing opportunity to watch the cubs grow up," said animal manager Mike Woolham.
"When they were born they would have weighed less than a kilogram but they are now tipping the scales at 25 kilograms (3.93 stone) and the time is right for them to depart to their new homes".
When the leopards were born in 2010 they caused a stir, with the zoo saying there was "a lot of interest to see the cubs".
The parents of the three leopards, Rocky and Enif, will remain at Banham Zoo and have been given a licence by the European Breeding Programme to reproduce again.
Snow leopards are endangered species with between 3,500 and 7,000 left in the wild, according to the Snow Leopard Trust.
Banham Zoo has been involved with the European Breeding Programme for snow leopards for 25 years.
Out of 200 in Europe, there are currently 33 snow leopards in 15 zoos across Britain and Ireland.