Norfolk councils' temporary worker fees are criticised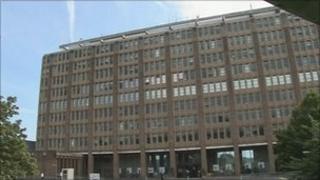 Norfolk councils are still spending too much money on temporary workers, despite bills for short-term staff reducing, it has been claimed.
Freedom of Information (FOI) requests by the BBC found Norfolk councils spent at least £50m on temporary staff in six years.
Unison said it was concerned and the Taxpayers' Alliance said there were too many "generous packages".
The county council leader said procedures met "stringent standards".
The bills relate to spending on councils' agency staff and external consultants throughout Norfolk from 2005 to 2011.
South Norfolk District Council declined to respond to the FOI request, and some councils provided the bills of their agency staff or external consultants.
Agencies and external consultants are known to charge higher fees for their services compared to full-time workers.
'New responsibilities'
Talking specifically about Norfolk County Council, Jonathan Dunning from Unison said that for "years and years" the council had been using costly agency social care workers while making their full-time equivalents redundant.
The Conservative-run county council is under pressure to slash £155m from its budget over three years and leader Derrick Murphy said agency workers were justified at a time of change.
"We will not be in a position to decide the final amount of our establishment, given the changes that we're making, at a time when we're also taking on new responsibilities from central government," he said.
"People have to meet very stringent standards of using agency staff which fits in with using taxpayers' money in the most effective way possible."
Other councils also justified their use of agency and/or external consultants, including North Norfolk District Council which uses such workers for its Pathfinder scheme dealing with coastal issues.
Great Yarmouth Borough Council said the area's seasonal economy, which relies heavily on tourism during the summer, meant it had to rely "from time-to-time" on agency staff.
During the six-year period Broadland District Council hired two consultants to act as interim heads in its planning and policy departments.
The temporary head of planning was there for five months, costing £55,000.
The interim head of policy worked for two months at a cost of £39,815 - about four times the salary of an equivalent staff member.
'Never ideal'
Broadland District Council said the posts were "vital" and that the interim heads came in about three years ago when there was a national shortage of heads of department.
Bills for agency staff and external consultants have generally come down over the last few years at most councils.
But Mr Dunning from Unison said: "In many ways they're admitting they've used consultants and agency staff excessively over the last few years.
"It begs a few questions about their decision-making at another time."
Caroline Williams, from Norfolk Chamber of Commerce, said hiring agency workers was never ideal for any employer but was sometimes necessary.