Context MC chosen for BBC Radio 1 Introducing playlist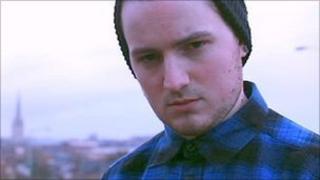 A Norwich rapper has had one of his songs picked by a national radio station for their playlist.
Context MC's track, Listening to Burial, will be broadcast every day for a week on BBC Radio 1 including their main daytime shows.
The song was selected by the station's listening panel after being nominated by new music radio show BBC Introducing in Norfolk.
Context MC, aka George Musgrave, said: "It's absolutely unreal.
"I had just sat down in the garden with my brother and a cup of tea when I got an email on my phone with the news. I put down my cup and ran around the garden shouting."
The 25-year-old released the haunting track, inspired by the dub-step producer Burial, in April.
Goals
He had so much faith in the power of the song that he has not brought out any music since.
"Once I'd recorded it and got back the mastered version, I knew it was good and I knew I wanted to push it as much as I could," he said.
"I set myself some realistic goals for 2011 and that was to get on the 1Xtra playlist as they've been good to me, so to make the Radio 1 playlist is like jumping 10 hurdles."
It is the latest landmark on the national scene for Musgrave, who is studying for a PhD in politics and economics at Norwich's University of East Anglia.
Earlier this year his video for Off With Their Heads was played on MTV and he has been featured on both The Independent and SB:TV websites.
No label
Listening to Burial was also chosen by BBC Radio 1 presenter Huw Stephens as his tip of the week this spring after being put forward by Musgrave's local Introducing programme.
"I have no marketing budget, no label to back me and all of my tracks are recorded in my bedroom, so the fact that I can upload a track to Introducing and get it on Radio 1 is amazing," he said.
"A few years ago, without BBC Introducing, this would have required so much investment."
Context MC is one of seven acts across the country who has made the coveted Introducing playlist, with music industry executives and radio programmers around the world keeping close tabs on the tracks added each week.
While confirmed for broadcast soon, it is not yet known what week the track will be added to the playlist.
'Atmospheric'
Huw Stephens' producer Natasha Lynch, from the selection panel, was impressed by track's imposing ambience.
"It really stood out from the 60-plus tracks I listened to," she said.
"I love the atmospheric feel, I like his lyrical style and am excited to hear more."
Context MC is now planning the release of his nine-track EP, The Cadmean Victory, featuring remixes of Listening to Burial and Off With Their Heads.
Fans in the city will be able to see him perform live on Saturday, 1 October as part of Norwich Sound and Vision.