SBTV boss Jamal Edwards visits BBC Music Video Festival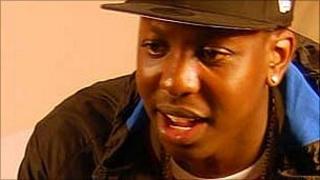 A top young entrepreneur has been in Norwich this week to inspire film-makers at the BBC Music Video Festival.
Jamal Edwards is the founder of one of the UK's leading new media youth broadcasters SBTV, which has helped to propel artists like Ed Sheeran to mainstream success.
Six years ago the 21-year-old was given a video camera for Christmas, which he took out on the streets of his west London estate to film urban acts.
He then uploaded his self-shot promos onto YouTube, while scouting for bigger artists to feature.
Kelly Rowland, Jessie J and Tinie Tempah are some of the channel's most memorable and recent star 'turns'.
Doubt
His stubborn determination not to take no for an answer and forge ahead has led to a company that has notched up more than 67m YouTube views, 85,000 Facebook likes and 42,000 Twitter followers.
"I loved the passion for filming and also I loved that people doubted me, so I wanted to prove to them that I could do it, that was the thing that always inspired me," said Jamal in Norwich.
"I'd go out of my way to try to prove them wrong."
It's a drive which has seen him become the face of web browser Google Chrome - which has charted his rise to success in a TV ad - and sign a deal with Sony RCA to branch out with his own label Just Jam Records.
Top meetings
Dressed in a baseball cap, jeans, trainers and discreet gold chain as he addressed the crowd at the city's Forum, the quietly-spoken budding media mogul would have looked out of place in a typical boardroom, but his constant tapping at his iPad illustrated a focused and busy mind.
Hardly surprising, then, that this week he's met the prime minister in his role as a Spirit of London ambassador and British billionaire businessman Philip Green.
Despite signing up some of the hottest music names for appearances on his channel, it tends to be people who have reached the top of the business game who make Jamal nervous.
"I don't get starstruck normally but I was starstruck when I met him [Green], Richard Branson, Swedish House Mafia and Simon Cowell, but other than that I'm quite good with it," he said.
Inevitably he's been touted as the next Simon Cowell and while admitting that "he loves his work rate," he says all he wants to be known as is Jamal Edwards - true to himself, retaining his core belief like his new-found friend Sir Richard Branson.
"I do poses and he copies me, so that keeps me grounded," said Jamal.
"I can never think that I'm better than anyone else because this guy is a billionaire and he's still down-to-earth so that's definitely humbling."
Star housemate
Like any other 21-year-old his thoughts are turning to moving out of the home he shares with his mum Brenda, a former X Factor finalist - and who better to share a pad with than his friend Ed Sheeran.
"Eventually we want to get a place - it's going to be suave, so we're sorting that out at the moment," he said.
And there looks to be little bickering - while the Suffolk singer-songwriter credits him with helping to break his career, Jamal said he's never tempted to take the credit for acts who have made the slog.
"I'm not trying to be like 'you owe me', but it feels good that I've created a platform that can help artists," said Jamal.
"I'm just going to try to find those unknown talents and push them out to the mainstream."
The BBC Music Video Festival runs at Fusion inside The Forum, Norwich, until 1 October, with more free talks with video-makers on 24 September from 12:00 to 16:00 BST.