Protest at sale of Norwich's Stardust movie cafe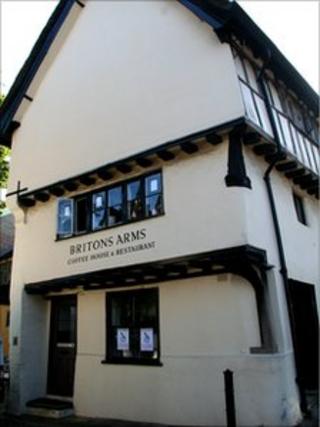 The proposed auction of a coffee house and restaurant in Norwich that was used in a Hollywood blockbuster film has sparked protests by residents.
More than 400 people have signed a petition to save Britons Arms on the city's historic Elm Hill from being sold by the city council.
The council said it could not afford to repair the Grade II-listed building.
In 2006 it was transformed into a pub, The Slaughtered Prince, for the movie Stardust.
Campaigners protested outside the 14th Century building on Monday to vent their anger at the proposals.
"The thought of having somebody value the flat that I've lived in for 35 years over my head is very painful," said current tenant Sue Skipper.
"I feel beyond passionate, I feel actually quite sick at the moment. I feel that everything we've worked for is up for grabs and I don't think we deserve it."
Extensive repairs have been completed to keep the building intact in recent years.
'Much-loved building'
It remains one of the few in Norwich to have survived the great fire of 1507.
Alan Waters, Norwich City Council's deputy leader, said: "Britons Arms is a council asset that has a big repairs liability attached to it, so we're considering all options as part of an ongoing review of our assets.
"This includes looking at the possibility of offering the property for auction.
"As it's a Grade II-listed building there are strict conditions on what can be done with it. So, whatever the outcome, the city will not lose a much-loved building."
The council said it had made an approach to the building's tenants asking them if they would like to buy the property and they would not accept any offers from other interested parties ahead of the auction, scheduled for 1 November.
An exception to the rule would be an agreed offer from the city's Preservation Trust, which has submitted its proposal to take over the property.
A decision on whether the auction will go ahead is due on 12 October.