Cockfight fear over birds stolen from Little Hen Rescue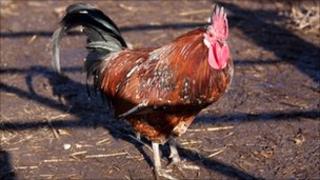 Cockerels stolen from a rescue centre may have been targeted for cockfighting, says its founder.
Little Hen Rescue, in Flordon near Norwich, was broken into by thieves who ripped gates off hinges and cut through locks, padlocks and fences.
It is the second time in six months the centre has been burgled, but the first time birds have been taken.
Jo Eglen, who runs Little Hen Rescue, said: "They're going to be used for fighting is what I believe."
The burglars, who also stole money and medicine, wore gloves during the break-in and sorted through the cockerels, leaving behind bigger birds.
Mrs Eglen said: "They took a certain type of cockerel which is a little English game cockerel that is used for fighting."
Mike Butcher, who is a chief inspector with the RSPCA's special operations unit, said the stolen chickens could be used for other purposes as cockfighters often take pride in raising their own birds.
He said: "It could be that they were stealing these cockerels for show or to sell on.
"We haven't often associated serious cockfighting with thefts of cockerels but that's something we know goes on and I would ask people to keep an eye open."
Cockfighting was made illegal in England in 1835.