Norfolk bus and ferry funding cuts of £500,000 planned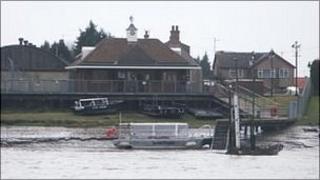 Funding cuts to rural bus services and a river ferry have been proposed by Norfolk County Council to make savings of £500,000.
The reduction in subsidies would mean fewer Sunday and evening bus services on some rural routes.
The council also wants to cut its annual £25,000 subsidy to the King's Lynn to West Lynn ferry service, which saw 90,000 passenger trips in 2009.
A series of roadshows seeking the public's views will begin on 4 October.
Under the plan, the Coasthopper bus service that links Hunstanton, Wells, Sheringham and Cromer would have fewer services outside the main tourist season between October and March.
'Minimising impact'
Anglian Bus routes between Norwich, Bungay and Halesworth will see fewer Sunday and evening buses and part of the 581 service between Beccles, Burgh St Peter and Great Yarmouth would be replaced by alternative pre-booked transport.
King's Lynn evening services would also be cut.
The council said in total, 17 financially supported bus routes connecting outlying villages and smaller towns with Norwich and the main towns in the county would be affected, with no changes to the other 126 it helps keep on the road.
It said it must save £700,000 from its rural transport budget as it looks for overall savings of nearly £75m between 2012 and 2014.
Graham Plant, cabinet member for planning and transportation, said: "The fact that only 17 services are directly affected is a testament to the amount of work that has gone into minimising the impact on passengers and communities.
"This has only been possible with the excellent support and co-operation we have received from bus operators.
"Any cut in service is bound to be bad news for some people, but we have done our best to choose routes and times where the journeys being lost are not critical."