Walsingham shrine marks one of its busiest pilgrimages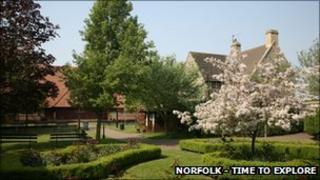 The Catholic shrine at Walsingham in north Norfolk is celebrating one of its most successful pilgrimage seasons ever.
About 100,000 people have visited this year, including 12,000 in one day.
Father Alan Williams, director of the shrine, said he believed one reason behind the increase in pilgrims was that life is now "more stressful".
The Shrine of Our Lady was founded in 1061. The town also has an Anglican Shrine dedicated to the Virgin Mary.
Father Williams said: "Life is tricky for most people these days and when they come to Walsingham they seem to be able to step outside the busyness, the hassle, the stress of life.
"We all know what's going on in the world and a lot of people find the world quite a tricky place to understand."
As well as seeing the number of pilgrims rise for three years running, the site also recently hosted a gathering of shrine directors from around Europe.
Representatives from countries including Germany, Slovenia, Romania, France and Portugal met to swap ideas.
The conference comes to Britain once every 20 years and Father Williams said Walsingham was the ideal setting.
"They were amazed at what we had to offer in Walsingham and how beautiful the whole set-up is," he said.