Denver Mill sail falls near Norfolk school pupils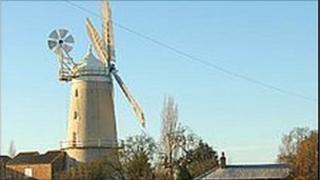 A windmill sail broke loose and fell to the ground close to youngsters on a trip from a Norfolk school.
The pupils from Clenchwarton Community Primary School, near Kings Lynn, were about 6ft (2m) away when the sail fell from Denver Windmill near Downham Market on Tuesday afternoon.
The children were ushered to safety inside a barn as debris, stone and wood were scattered across the site.
None of the pupils, who were all about five-years-old, were hurt.
The building, which is the last working mill in Norfolk, has been run by Lindsay and Mark Abel since 2008.
Mrs Abel was with the pupils when the sail fell and collided with another, causing the woodwork to smash and scatter.
Staff praised
"I was standing in the back garden doing an activity when there was this almighty crashing noise," she said.
"Bits of the sail started crashing around us about 6ft from where I was standing with the children."
The couple's daughter, Sally Abel, 27, rushed to put the mill brake on.
Georgie Earl, acting head teacher at Clenchwarton Primary School, praised the actions of staff at the mill.
"The teachers have just praised Denver Windmill and said how fantastic they were," she said.
Repairs worth £1 million were carried out at the Grade II-listed building in 2007, thanks to Heritage Lottery money and European funding.
It is thought the cost of repairs to the mill will be covered by insurance carried by the building's landlord, the Norfolk Historic Building Trust.
It is hoped the windmill will be able to return to full operation.