Norfolk firm fined over illegal waste shipment to India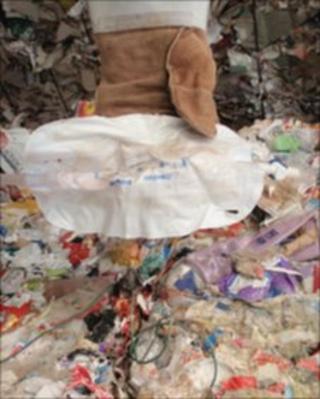 A waste paper firm from Norfolk has been fined £5,000 over an illegal shipment of waste to India.
The waste from Norwich-based paper recycler MW White Ltd was discovered at Felixstowe Docks and included nappies and rotting food.
The firm admitted not accurately describing the waste at Norwich Magistrates' Court and was fined £5,000.
Waste carrier Williams Recyling (UK) Ltd of Nuneaton was also fined £5,000.
The shipment of 225 tonnes of waste was discovered by Environment Agency officers during a routine inspection in January.
Although the waste transfer notes described the contents as "mixed paper", much of the waste in the 10 containers was rotting food and nappies as well as plastic, tin cans and textiles.
There was also some waste paper.
The containers had been loaded at a site in Ketteringham, from which MW White operates.
Williams Recycling was listed on each of the export delivery notes as the firm organising the shipment.
European legislation bans the movement of mixed waste to certain countries, including India, without a detailed permission procedure, the court heard.
The firms were ordered to share the legal costs, having to pay £6,655 each.