Midwifery unit at James Paget Hospital marks 100 births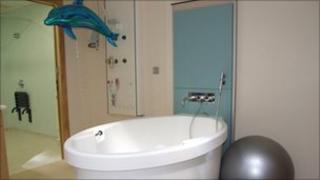 A Norfolk hospital is celebrating after carrying out 100 births at its new midwifery unit that has birthing pools instead of beds.
James Paget University Hospital in Gorleston opened the £500,000 Dolphin Suite in June.
Its delivery rate has also surpassed expectations giving birth to 15% of the hospital's babies in three months.
The hospital was given funding for 11 new midwives to open the first unit of its kind in Norfolk.
A similar unit followed at the Norfolk and Norwich University Hospital in August.