Wayland Prison inspection finds drug and health 'concerns'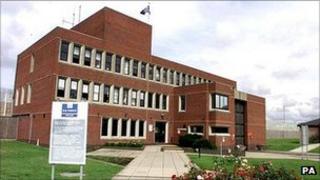 An inspection at a Norfolk prison has shown inmates' drug and health issues need to be "urgently addressed".
The latest report on HMP Wayland, near Thetford, said most prisoners were "safe" and lived in "decent conditions".
But inspectors said changes to the drug treatment system had been "badly introduced" and caused "significant disruption" at the prison.
The strategic management of health care was also said to be "poor".
Staff shortages and a "chaotic" administration of medication was said to have had a negative impact on the prison's regime.
The category C male training prison has expanded in recent years and seen significant changes to its population.
'Safe for prisoners'
Despite the outlined concerns, inspectors concluded that overall the prison was settling down and, in most areas, producing "good outcomes" for prisoners.
"This is an encouraging report and I am pleased the chief inspector identified that despite changes to its population, Wayland was safe for prisoners," said Michael Spurr, head of the National Offender Management Service (NOMS).
"The chief inspector's comments on purposeful activity and self-harm reduction measures are also welcome.
"Since the inspection, the governor and staff have worked with providers to undertake a programme of improvements to areas such as health care, including better drug treatment systems.
"These measures, combined with a good range of resettlement provision, will reduce the likelihood of reoffending and thereby protect the public."