Caterham Cars expansion into Norfolk to create 60 jobs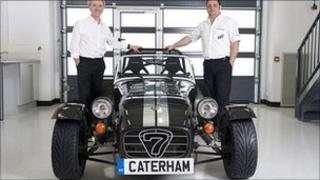 Caterham Cars, owned by Norfolk's Team Lotus F1 team, is expanding operations in the county creating 60 jobs.
New engineering arm Caterham Technology and Innovation Ltd will be based at the Hethel Engineering Centre, opposite Lotus Cars in south Norfolk.
The company will look to develop "accessible" and "affordable" sports cars while drawing on technologies used by Team Lotus during F1 development.
Kent-based Caterham was bought by Team Lotus owner Tony Fernandes in April.
Twenty one people will be working in Norfolk by the end of October, with that number rising to 60 within the next year.
Caterham is famous for its Seven sportscar and previously had links with the Team Lotus name of the 1970s, when Lotus' founder Colin Chapman sold the rights of the car to the new business.
The company is still intent on moving its main base to Oxfordshire, but a Norfolk operation will be retained for engineering-based reasons.