Antlion larvae colony thriving at Norfolk reserve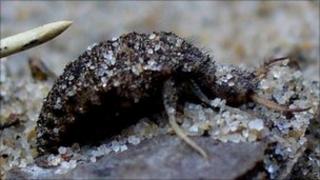 A rare insect larvae colony that digs a pit to trap its prey has almost trebled in size at a Norfolk breeding site.
Natural England said antlion larvae were thriving at Holkham National Nature Reserve.
Adults are like small dragonflies but their larvae lurk in cone-like burrows waiting for other insects to slide in.
They grab their prey in huge jaws and suck them dry. Natural England said they were spotted in pine woods in 2005 and there was now a large colony.
"There had been reports of antlions in sandy ground in pine woods since 2005," a spokesman said.
"In a survey in 2008, the species (Eurolean nostras) was identified and 700 larval pits found."
Because the insect is so scarce in Britain, experts thought the site may have only been temporarily colonised.
Suitable habitat
This year they found 1,905 larval pits - showing the colony had almost trebled in size.
Antlions, whose digestive system is so efficient they excrete no solid waste, are found over most of Europe, but are extremely rare in Britain.
Larvae up to nearly half an inch long (10mm) live for two years before becoming adults with wings spanning nearly 3ins (70mm).
Adults live for just a few weeks.
Natural England said the Holkham reserve was suitable for the antlions because it has open banks of sand, abundant prey and pine trees where the adults mate.
The only other known breeding area for the insect in the UK is the Suffolk Sandlings.