Nathan Fake's Radiohead King of Limbs remix makes LP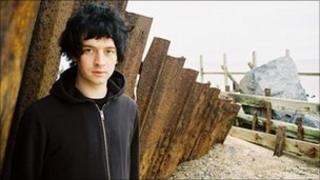 An under-the-radar electronic artist from Norfolk is celebrating after his track was selected for a new remix album by Radiohead.
Nathan Fake, originally from Necton, near Swaffham, was approached by the British band's singer Thom Yorke to remix their track Morning Mr Magpie.
TKOL RMX 1234567 - an album of reworks from Radiohead's latest LP The King of Limbs - charted at number 34 on Sunday.
Fake said his new found fame had come "totally out of the blue".
"My label just emailed me one day and said Radiohead want you to do a remix.
"Thom Yorke got in touch with Kieran Hebden from Four Tet - they're friends and I'm friends with him - and got my contact details.
"It's great! It's the most high profile thing I've ever done. It feels really nice to see my name on something like that."
Fake's remix of the second track from The King of Limbs is enchanting and retains the ambience of the original song, while giving it a warmer glow.
It also sits harmoniously alongside remixes from the LP's 'big guns', such as Jamie XX, from Mercury Prize winners The XX, Caribou and Four Tet.
Growing recognition
Fake, 28, now lives in London after leaving his home county soon after his electronic music career began to take off.
Being signed to independent label Border Community in his early 20s, he's now released two full albums alongside a host of critically acclaimed EPs and singles.
Fake's rise to stardom continues the growing recognition for Norfolk's talented pool of electronic producers.
Luke Abbott, who made a name for himself with his debut LP Holkham Drones in 2010, has also been mentioned by Yorke on his must-listen Radiohead Office Chart, which he regularly posts online.
Fake said he's pleased that the county is finally getting a mention from some of the biggest stars in music.
"With the internet and the way music reaches people, it's really cool that there's music like this coming from Norfolk," he said.
"It seems that guys like me and Luke have quite a similar style, even though I didn't grow up with him. We only met through music. It's quite cool we have a similar sound.
"In terms of people like Thom Yorke 'getting it' - I don't know if he's even aware that it's a Norfolk thing, but he's into the music and that's good."