Ronan Parke 'excited' about Norfolk gigs before album release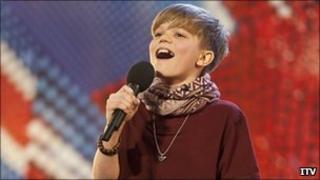 Britain's Got Talent singing star Ronan Parke says he is excited about playing his first gigs in Norfolk, before the release of his debut album.
The teenager from Poringland, Norwich, is performing two nights at Potters Leisure Resort, near Great Yarmouth, on Friday and Sunday.
His self-titled debut album is out on Monday after he was given a record deal by Talent judge Simon Cowell.
He shot to fame on the ITV show in June after making the competition's final.
"I'm really excited about it. A lot of my friends are going to be there [at the gigs]," said Parke, 13.
"It makes me nervous, because I need to impress them. They've seen me sing so many times and I want to impress them even more."
It has been a whirlwind year for the teenager, who was front page news earlier in the year for not only his singing abilities.
'Big fan base'
Before reaching the talent show's final, it was claimed he was groomed for stardom by Simon Cowell - which his record company Syco/Sony Music and Parke's mother Maggie denied.
But since the contest, Parke's fame has reached new heights - singing to thousands of people at T4 On The Beach and being swamped by local fans waiting to meet him at the county's Royal Norfolk Show.
Taking breaks from school to record and promote his forthcoming album, Parke said he still enjoyed going back to study when he could and meet his classmates at Framingham Earl High School, in Norwich.
"When I go back everyone's like, 'that's normal Ronan', and I really, really love that.
"I've been going back for quite a while. I had quite a long period where I was just at school but now I'm missing the week off. It all depends how the album goes really."
Parke's first album includes a selection of cover songs chosen by the singer and his label along with an original track - Stronger Than I Am - penned by Take That's Gary Barlow.
The singer said it was a conscious decision to get the album out close to the Norfolk shows.
"I'm really excited about the release. I had quite a big fan base and I didn't want to lose that and keep them waiting," he said.
"All the songs on the album are songs that I like, so I had a big say in it. All the songs mean something to me."
The singer will meet fans and sign copies of his album at HMV on Gentleman's Walk, Norwich, on 28 October.