Stab vests issued to King's Lynn hospital security staff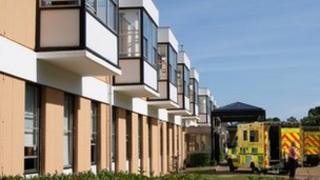 New security guards are to wear stab vests when they start work at a Norfolk hospital in the new year, it has been confirmed.
The guards will be employed at the Queen Elizabeth Hospital in King's Lynn from February.
Hospital security manager Gary Morris said the hospital had recently seen a number of violent attacks.
The vests would "increase the emphasis on the safety of staff, patients and visitors", he added.
Mr Morris said recent violence at the hospital included thefts, attacks by alcohol-intoxicated patients, female visitors being assaulted in the accident and emergency department and staff being spat at and verbally and racially abused.
Currently porter staff have acted as security personnel on site.
Mr Morris said that despite the problems, traditionally the hospital had seen relatively few incidents.
"It is important to have adequately trained and equipped security staff to deter and prevent incidents, as well as being able to deal with incidents should they arise," he said.
Security staff at the Norfolk and Norwich University Hospital have been wearing stab vests for about 18 months, a spokeswoman there said.