James Paget Hospital chairman 'should resign'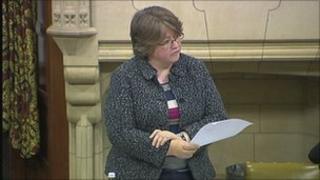 An MP has called for the chairman of a failing Norfolk hospital to resign following concerns from "whistle-blowing" GPs.
Therese Coffey said she had received letters from constituents and a group of GPs over the standard of care at the James Paget in Gorleston.
She told MPs in the Westminster Hall Committee Room that it had failed two inspections and could fail a third.
The hospital said no decision about leadership would be made at this time.
'Lost confidence'
Dr Coffey, the Conservative MP for Suffolk Coastal, said chairman John Hemming should take ultimate responsibility and "consider his position".
Speaking during a debate, she said she had received a letter signed by "a group of concerned GPs" which said they had been "forced to pursue this whistle-blowing option".
"We have lost confidence in the ability of its leadership to correct its failings," the letter stated.
"Please act quickly before we have another Mid Staffs on our hands," it added, referring to Stafford Hospital.
The Healthcare Commission found hundreds more people died than would be expected between 2005 and 2008, due to Stafford's "appalling" emergency care, which prompted a campaign by families and a public inquiry.
The letter added: "We need to put the pressure on appropriate organisations before our patients suffer."
Problems with nutrition were uncovered at the James Paget earlier this year during an inspection of care for the elderly by the Care Quality Commission.
When the issues had not been resolved during a return visit in September, the hospital was issued with a warning notice.
If swift improvements are not made it could face sanctions including prosecution or closure of services.
'Working with regulator'
Dr Coffey added that she was not suggesting that all patients admitted to the hospital automatically suffer, but there is concern that some patients are reluctant to use the hospital.
"The two failed inspections of care and a possibility of a third - I think it's time he [John Hemming] steps aside and allows new leadership to come forward."
The hospital, which serves east Norfolk and north Suffolk, said: "The trust is concentrating its efforts on patient care and is engaged in a formal process with Monitor [the regulator of NHS foundation trusts].
"No decisions regarding the leadership of the trust will be made at this time."