Young's to 'keep crab processing' in Cromer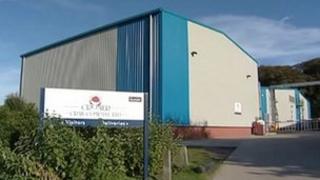 Young's Seafood has announced it is looking at ways to keep crab processing in Norfolk, but the move would only safeguard 20 local jobs.
The company unveiled the plans on Monday after it said in September it may close its Cromer base entirely, putting 230 posts at risk.
Jobs for the majority of staff members remain uncertain as Young's continues to review its manufacturing operations.
The plans will be discussed as part of a staff consultation period.
Despite Young's Norfolk plant being called the Cromer Crab Company, local crabs and lobsters only contribute 2% towards the factory's £65m turnover, the company said.
The majority of its operations include processing prawns and other shellfish from around the world.
Young's Chief Operating Officer Pete Ward said: "We welcome the interest in Cromer crab as it highlights how much of a high quality, iconic shellfish it is and its importance to the local community.
"The consultation is under way and we are continuing to explore all options and alternatives raised.
"Working closely with a number of stakeholders, we are now looking at ways to keep Cromer crab branded items in Cromer and we will not move these lines to either Grimsby or Scotland."
'Long way to go'
Before Monday's meeting with shareholders the company received a petition of 6,500 signatures against the Norfolk plant's closure from the Keep it Cromer campaign.
In attendance at the meeting were representatives from the protest group, along with local MPs and councillors.
Afterwards Norman Lamb, MP for North Norfolk, said there was "cautious optimism" surrounding the announcement, but believed there was still "something worth fighting for".
Sam Rushworth, from the Keep It Cromer Campaign, added that the news showed that Young's were "certainly listening" and the petition had achieved its purpose, but stated there was "still a long way to go" with discussions.
The review of the company's shellfish manufacturing operations follows the merger of Young's, Findus UK and Ireland, and the Seafood Company as one business.
The company said it would continue consulting over what would happen to the majority of jobs at the factory.