Judge Peter Jacobs criticises prison over inmate's leave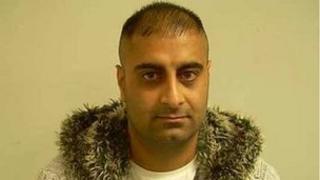 A judge has criticised a prison for releasing a drugs baron on home leave 13 months into a six-year jail term.
Judge Peter Jacobs branded the situation a "farce" after Mohammed Rafiq, from Dudley in the West Midlands, failed to attend a hearing at Norwich Crown Court.
It emerged Rafiq, 35, had been sent home from prison for the weekend.
The judge asked Norwich Prison officials to explain the decision in court - but said he had been ignored.
Judge Jacobs said: "So far, nobody from the Prison Service has arrived. If they do arrive, I will hear what they have to say with interest."
'Total farce'
He had expected the prison to bring the defendant to court on Thursday for a hearing under the Proceeds of Crime Act.
Instead, it emerged that former taxi driver Rafiq had been allowed to return to his home for the weekend, 13 months into his sentence.
Judge Jacobs said: "Court officers have been made aware that he may have served some time while on remand.
"I'm not sure of what significance that is in explaining why, in a case of such seriousness, he was at home when he should have been in prison."
At Thursday's hearing, the judge expressed anger at the decision to grant Rafiq home leave, saying: "He should be sitting here in custody, in the dock. This is a total farce.
Cannabis farms
"I will want an explanation in public as to how a man serving a six-year sentence is allowed to go on home leave, despite the fact he is supposed to be here today.
"I will look to see if the prison can pay the costs of today's hearing."
Rafiq was part of a gang who ran a network of cannabis factories capable of producing drugs with a street value of about £1m each year.
He managed five cannabis farms in Norwich and several in the Midlands.
Rafiq is serving a six-year sentence after admitting conspiracy to supply controlled drugs in 2010.
He is currently held in Britannia House, the open resettlement unit at Norwich Prison.