Libyan base personnel lead parade through Norwich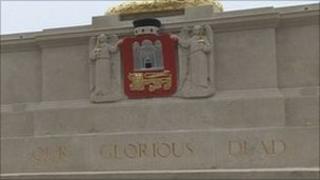 Personnel from RAF Marham whose aircraft were involved in the recent Libyan conflict took a leading role in a Remembrance Sunday parade in Norwich.
The Lord Mayor of Norwich, Jenny Lay, led the service of remembrance at the newly restored war memorial in front of City Hall.
As the city's leading civic dignitary she laid the first wreath on the plinth on behalf of residents.
The service was conducted by Rev Peter Nokes of St Peter Mancroft Church.
The service was followed by a parade through the city centre.
The parade also included ex-servicemen, the Royal British Legion, voluntary organisations, army, navy and air force cadets led by the Norwich Citadel Band.
A second service of remembrance was held at Norwich Cathedral after the parade.